News
Posted by Support Flagseller on
Canva, a versatile and user-friendly online design tool, has gained immense popularity in NZ. It has become the preferred platform for individuals and businesses, offering a diverse range of design options and templates for various purposes. Recently, we have observed an increasing number of our clients using Canva to design their custom teardrop flags and banners. In light of this, we are delighted to present a step-by-step guide on designing a teardrop flag using Canva, by using a simple example. Step 1: Start navigating to the teardrop flag kitsets webpage. Look for the 5th section labeled "Design Services and Teardrop Flag Templates...
Posted by Shane Lin on
Local businesses in NZ often face the challenge of standing out and attracting customers. However, with the right marketing tools, you can create a strong brand presence that leaves a lasting impression. At flagseller.co.nz, we specialize in providing custom teardrop flags, feather flags, and a wide variety of fabric banners that can help your business soar to new heights. In this blog, we will explore the power and versatility of flag banners and how they can revolutionize your marketing strategy. Whether you're a local real estate agent, the owner of a small coffee shop, a childcare center, or any other...
Posted by Shane Lin on
Looking for a unique and eye-catching way to promote your coffee business or stand out at your next event? Look no further than our customised coffee flags! At our flag printing company, we offer a wide range of teardrop flags to suit your needs and budget, including our latest addition of the coffee flag. These small size single side tear drop flags come with a ground spike base for easy and inexpensive installation directly into the grass. Choose from our seven base options to find the perfect fit for your needs. Our coffee flags are made from high-quality 110g polyknit...
Posted by Shane Lin on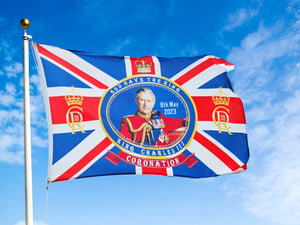 The coronation of King Charles III is an exciting and momentous occasion, and it's an event that deserves to be celebrated in style. If you're looking for a unique coronation idea to commemorate this historic moment in New Zealand, look no further than our stunning coronation flag. At flagseller.co.nz, we understand the importance of celebrating momentous occasions, and what better way to celebrate the coronation of King Charles III than with our specially designed coronation flag? Our flag is made from the highest quality fabric for long-lasting. With its bright and bold colors and intricate design, our flag is the...
Posted by Shane Lin on
Advertising flags are a powerful marketing tool that can help businesses of all sizes increase their visibility and attract new customers. Their portability, durability, and customizable design make them a versatile and cost-effective solution for businesses looking to get noticed in a crowded market.
---